Kitchen
Cleaning
Newcastle
&
North
East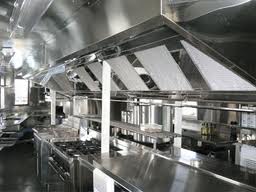 Deep
Cleaning
of
Kitchen
Area:
Kitchen Deep Cleaning is one of the simplest ways to create a clean, safe kitchen, and to meet your legal obligations towards your customers and staff. As well as dealing with invisible hygiene problems, regular Deep Kitchen Cleaning helps to create a positive atmosphere amongst kitchen staff and lets them know that you expect high standards. But what does Deep Kitchen Clean actually involve? How often does it need to happen? And is one-off Kitchen Deep Cleaning enough?
What
is
Kitchen
Deep
Cleaning?
The best way to explain Kitchen Deep Cleaning is to consider the difference between Deep Kitchen Cleaning and everyday cleaning.
Day to day, you or your kitchen staff keep on top of the cleaning. But what about all of the areas that remain out of sight? This includes:
• Underneath and behind cookers and fridges
• Around the feet of prep surfaces
• Seals of fridges
• High shelves
• Between walls and prep surfaces
• Between units and equipment
• Inaccessible parts of ranges, grills, fryers and other equipment.
All this means that, even if you have the best cleaning regime possible, there will still be some part of your kitchen and equipment which simply don't get cleaned. And yet the build-up of dirt and grease in these inaccessible areas can still pose a significant health risk. Only Kitchen Deep Cleaning can deal effectively with this type of problem.
Quite apart from the regulatory requirements (see below) it is every catering outlet's worst nightmare to have customers fall ill or to acquire a reputation for bad hygiene. However, regular Kitchen Deep Cleaning minimises this risk, protecting your customer's health and avoiding damage to your business's reputation.
Deep Kitchen Cleaning and everyday cleaning should complement each other. It is far easier and quicker for your staff to maintain a clean kitchen if they are starting from a very clean baseline. And kitchen employees who start out with a thoroughly clean kitchen will feel far more motivated to keep it clean. In addition, seeing Kitchen Deep Cleaning taking place sends a powerful message to all your staff that you take hygiene seriously and expect them to do the same.
Kitchen Deep Cleaning – Regulatory Requirements
Commercial kitchen hygiene is rigorously enforced by Local Authority Environmental Health Officers using the Food Safety Act 1990 as their principal item of legislation.
In addition, the Health and Safety at Work Act 1974 requires food outlets to demonstrate not just that a premises is adequately clean at the time an officer visits, but has a cleaning protocol in place – i.e. a planned schedule which you can show is being followed by staff. Having scheduled Deep Cleans strengthens your protocol and goes a long way to convince an Environmental Health Officer that you take cleanliness seriously and that you have your cleaning regimen under control.
One-Off
or
Scheduled
Deep
Kitchen
Cleaning?
North East commercial cleaning can provide either one-off deep cleans or regular scheduled Deep Kitchen Cleaning, as required. As a default, regularly scheduleddeep cleans are recommended to ensure the most consistent results. To be on the safe side and depending on usage any commercial kitchen should arrange Kitchen Deep Cleaning at least once per year and up to four.
However, one-off cleans can be arranged at any time and may be especially appropriate when:
• Taking over a new kitchen
• At the beginning and/or end of a period of disuse (e.g. start/end of summer season)
• Usage has been much higher than normal and the scheduled deep clean is a long way off
North East commercial cleaning have a Kitchen Deep Cleaning format which is tailored entirely to your needs.
Deep
Kitchen
Cleaning
–
What's
Included?
Deep Kitchen Cleaning begins with the ceiling and high level walls to the point at which it meets the work surfaces. We then clean all of the preparation tables, removing them where needed in order to clean surfaces which normally can't be accessed. Finally we go to work on the equipment: the ovens, the fryers, the grills. We strip everything down, clean it and reassemble so that they are ready to cook again. This just leaves the floor which we clean and wet vac working towards the door – and that's it – job done.
You'll receive a hygiene certificate once the job's done, allowing you to prove that your kitchen meets the highest levels of cleanliness.
Kitchen
Deep
Cleaning
–
Summary
of
Benefits
Regular deep cleaning provides you with:
• Reduced risk of enforcement, closure or prosecution by Environmental Health Officers
• Safer food hygiene for your customers
• Better working conditions for your staff
• Reduced risk of pest infestation
• Demonstration of high standards to your staff and improved staff motivation
• Peace of Mind!
Areas
we
Cover
Canopy Cleaning Sunderland | Canopy Cleaning South Shields | Canopy Cleaning Newcastle | Canopy Cleaning Middlesbrough | Canopy Cleaning Leeds | Canopy Cleaning Durham
Duct Cleaning Leeds | Duct Cleaning Newcastle | Duct Cleaning South Shields | Duct Cleaning Middlesbrough | Duct Cleaning Durham | Duct Cleaning Sunderland