Canopy
Hood
Cleaning
Newcastle
&
North
East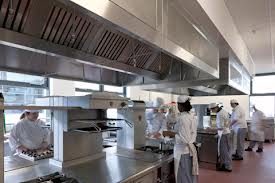 It is very important to keep the extractor hood clean. Its function is to remove grease-laden fumes and vapours from your cooking areas, helping to regulate the temperature of your kitchen and keep its atmosphere as hygienic as possible. The extractor hood needs to be cleaned regularly in order to keep it working at maximum efficiency.
If regular commercial cleaning is not carried out then you cannot prevent the build-up of grease and other flammable substances in the extractor hood. Grease and carbon will build up in your kitchen extractor hoods blocking the regular airflow in the system. It will turn down the performance of your kitchen staff and will negatively appear on your business as well. Areas which are not cleaned and maintained regularly and professionally can quickly become a fire risk.
Apart from the fire risk commercial kitchen ventilation systems also pose hygiene, odour, vermin and mechanical efficiency hazards. Kitchens are often closed down if it is not compliant with the current Fire Safety and Health and Safety regulations. Cleaning of commercial extractor hoods is also a part of our service.
Areas
we
Cover
Canopy Cleaning Sunderland | Canopy Cleaning South Shields | Canopy Cleaning Newcastle | Canopy Cleaning Middlesbrough | Canopy Cleaning Leeds | Canopy Cleaning Durham
Duct Cleaning Leeds | Duct Cleaning Newcastle | Duct Cleaning South Shields | Duct Cleaning Middlesbrough | Duct Cleaning Durham | Duct Cleaning Sunderland