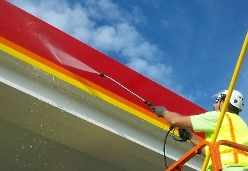 Forecourt Cleaning Newcastle
Reach & Wash, Reach & Wash is a relatively new system that uses de-ionized, purified water to clean glazing at heights of up to 65 feet using a carbon fibre pole system. It does not use any chemicals, making it the greener and safer choice. Using pure water means there is no detergent residue, which attracts dirt and stays cleaner for longer.
Pure water possesses a strong urge to return to its former impure state, absorbing dirt left behind by the elements. Because of the use of pure water the surface will dry to a spotless, streak free finish. We ensure our resin is changed every six weeks to ensure the best quality to our clients.
The main advantages of Reach & Wash (R&W) are:
Substantial reduction in cleaning costs as it saves on time (as opposed to hiring access machinery and cleaning by hand, or using ladders which is not always possible).
Ability to reach high-level glazing up to 65 feet (approximately six floors).
Eliminates access problems - Reaches windows over obstructions such as cars, lawns or flower beds.
Cost effective - Cleans frames at the same time as the glass at no extra cost.
Safer - Can eliminate the use of ladders and access machinery. Operators work from the safety of the ground.
Environmentally friendly as no chemicals are used.
R&W lets us multitask – We can clean windows, glass roofs, signage, atria, trolley bays, cladding, canopies and facades safely as no chemicals are used in the system.
R&W is quiet and has zero noise impact.
Water points not needed as the R&W van carries its own tank, meaning less spills and accidents and we don't interrupt your business.