Duct
Cleaning
Middlesbrough
Duct Cleaning Middlesbrough - Extraction Cleaning Middlesbrough - North East 
Looking for a professional Duct cleaning, Ductwork company in Middlesbrough and the North East. Duct cleaning is an arduous and dirty business but also essential in ensuring that you are covered by your Insurance company in the event of fire.
Maintaining a clean ducting / extract system is vital in terms of both safety and system performance. If Duct cleaning is not undertaken on a regular basis then grease left in the ductwork can build up over time making it more difficult and time consuming to remove. Failure to ensure regular cleaning of kitchen grease extract systems will also invalidate your buildings insurance cover.
In many cases the visible canopy hood and filters within the kitchen are very easily accessed and cleaned by catering and kitchen staff or even general cleaning companies, however the main danger undoubtedly lies in the hidden ductwork that passes through sometimes very awkward and Inaccessible parts of the building. Often we find up to 3-5 Inches of highly flammable grease inside the ducting / extract system leading to the main extraction point / fan, which If ignited would without doubt prove catastrophic in terms of fire.
Past experiences have confirmed to us that previous attempts at cleaning the ducting by other general cleaning companies have proven to be very unsuccessful and performed to a poor standard, this is mainly due to the cleaning company's lack of knowledge and expertise.
Also due to the complicated nature and design of both the Internal and External duct work twinned with working in a confined space and also accessibility problems in terms of successfully gaining access to the higher more difficult to reach parts of the system.
This can result in just 20% of the entire extract system being accessed and properly cleaned, leaving a huge amount of flammable grease remaining in the system, and unfortunately you as a customer would be totally unaware of this situation due to the fact that you also would not be able to access the duct in-order to carry out an Inspection of the work you have just paid for and more Importantly leaving your premises at risk of a devastating fire:
FACT: There is at least one major fire every day in the UK as a direct result of grease igniting within ducting and extraction systems!
http://www.lbhf.gov.uk/Images/Lf%20Ducting%20A5%20flyer%20LFB_tcm21-167503.pdf
http://www.ductdevil.com/TR19%20HVCA%20Internal%20Cleanliness%20of%20Ventilation%20Systems.pdf
Here at North East commercial and Industrial cleaning we are very different in our approach to duct cleaning, firstly we will start our cleaning process at the canopy section directly above your main fryers/ stove, removing all filters and baffles thus identifying where the ducting leads to, then systematically follow the duct, whether it be above the ceiling tiles or running along a top of a wall.
Before and after photographs will be taken of the entire system to illustrate the quality of cleaning carried out by ourselves, Please see example: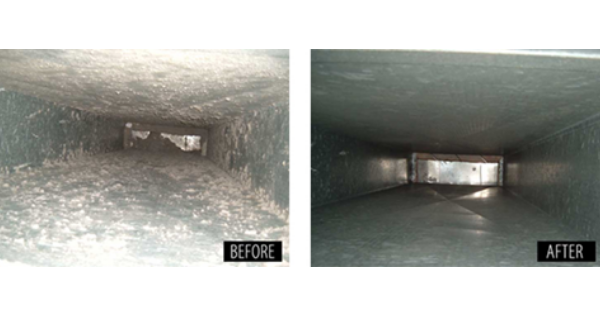 If required we will cut, Install cleaning / Inspection hatches in to the ducting at least every 3 feet intervals in-order to facilitate a thorough cleaning process. Access doors are vital in the cleaning process and should disaster strike would give the fire brigade quick and easy access to the duct.

Once access is made available to all areas of the duct, we will manually scrape the grease out removing 99% of everything inside.
A heavy duty de-greaser / sanitizer will then be applied ensuring the duct is left in grease free and clean state.
With the ductwork cleaning completed we would then turn our attention to your extract point / Fan and housing located on the external of the premises, we will fully remove, dismantle, clean, reassemble and re-fit and finally run a series of tests to ensure it is performing at its optimum levels.

We will erect special working platforms or use powered access equipment to ensure quality and thorough cleaning of heights up to 50 feet ensuring 100% of your system from the Internal canopy in your kitchen to the extract fan and ducting on the external wall or roof is cleaned safely and effectively.

When all work is completed we will ask you to Inspect the full ducting system both Internal and external using the access doors we have Installed to ensure job completion and satisfaction, once satisfied we will then Issue a certificate of compliance / Hygiene which would be recognised and accepted by your Insurance company that competent cleaning work has been carried out on your extract system.
We can arrange to visit your facility free of charge in order to carry out a full and thorough Inspection of your entire system by one of our specialist team, we would then advise what level of cleaning / servicing is required thus adhering to all health & safety regulations.
All our cleaning methods and practices comply with HVCA/TR17/TR19 regulations and upon completion we would provide certification which is acceptable to Environmental Health, Fire Safety Officers and Insurance companies alike.
For more Information on our Duct cleaning services in Middlesbrough call us free on 0800 779 7082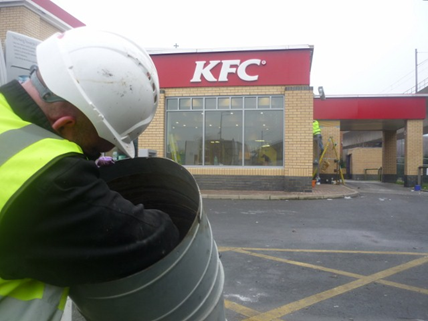 Trusted by KFC to undertake complete cleaning of their ducting / extract systems during refurbishment of their restaurants.