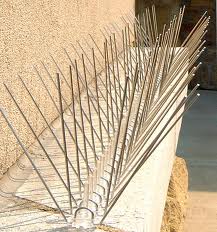 Bird Spikes Newcastle - North East 
Our bird spiking systems offer a versatile bird control method designed to provide effective and humane control of problem urban birds.
We will work with you to ensure the bird proofing solution is right for you before installation. All of our work is guaranteed from the moment we commence installation and is completed by qualified and experienced technicians.
How spiking works
The upward pointing wires or 'spikes' act as a physical barrier to the birds without hurting them. The clever design means that just four types of bird spike provide the solution to virtually every situation where bird spikes are suitable.
- Bird spiking is available in different designs for different bird problems
- Different heights of bird spiking mean optimum control of either pigeons or gulls
- Bird spiking strips can be fixed to almost any surface
- Stainless steel wires and ultra violet stabilised plastic bases ensure bird spike durability